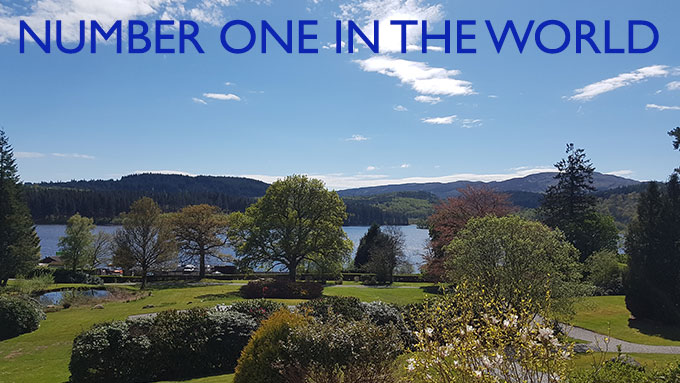 Scotland has just been voted 'The most beautiful country in the world' by readers of Rough Guide.
In celebration, we thought we'd give you a wee insight into a wedding that took place in one of Scotland's most picturesque locations and what made it even more special, the ceremony took place outside, allowing the happy couple and their guests to soak up this amazing environment.
The Macdonald Forest Hills Hotel near Aberfoyle was the setting for Colin and Kirsty's wedding day in May this year.  Both being outdoorsy, the location was just perfect, but the icing on the cake was the weather.  Even though it was early May, it was one of the best days of the year so far. Even though the indoor space for a ceremony at the Hotel is beautiful, there really is something magical about being able to have a ceremony outside, especially when you're looking over Loch Ard and the Mountains beyond.
Kirsty and Colin had chosen to have a Humanist ceremony because it allowed them marry in a way they feel represents who they are and how they wish to live their lives together. It also allowed them to celebrate not only their Marriage, but thank their friends and family too, and make sure they all felt really involved in their big day.
We started the ceremony with a fun and fitting reading, read by one of the guests. It was a Disney Love Poem and made everyone giggle.  It was the perfect balance of sentiment and lightheartedness, the perfect start to any ceremony.
I then told Kirsty & Colin's story so far.  It really was a great story of how they met, with Kirsty quite literately falling at Colin's feet.  They really enjoyed telling me about their journey as a couple as it allowed them to celebrate everything, both good and bad, that they have been through together.
Then we came to the 'secret' part of the ceremony.  I had asked them to give me three reasons why the love each other and in balance a fourth one, the one that drives them mad about the other.  These were given to me in secret, so of course the big reveal was met by a mixture of happy tears and snort of laughter.  Mainly at the fourth reasons of course.
Both being big Bob Marley fans, their second reading was just perfectly placed before the vows.  You can find that reading here.
Kirsty and Colin had taken the decision to read their vows to each other instead of an 'I do'.  They had chosen these together and again, just suited them perfectly.
After that, it came to my favourite part of the ceremony, I got to pronounce Kirsty and Colin to be Husband and Wife.  After sealing the deal with a kiss, them not me, we signed the schedule making everything legal.
The ceremony was closed with another reading, this time a Celtic blessing..
From this day forward.
May the road rise to meet you
May the wind be always at your back
May the warm rays of sun fall upon your home
And may the hand of a friend always be near.
May green be the grass you walk on,
May blue be the skies above you,
May pure be the joys that surround you,
May true be the hearts that love you
After that, it was time to introduce the new Mr & Mrs for the very first time (my second favourite part of the ceremony) and send them back up the aisle to boogie the rest of their big day away.
What is a Symbolic Gesture, Anyway? By Lucy Haden, Fuze Celebrant Now I'm a fully fledged Humanist Celebrant, and I've been there, done that and

Proud parents Brogan & Connor lovingly look at their daughter Livy - beautifully captured by good friend of Fuze Photos By Dawn By Darren Handy,